NANGA x YKK parts which reduce snagging and catching
Our sleeping bags are equipped with specialized YKK parts on zipper sliders to minimize snagging and catching of the fabric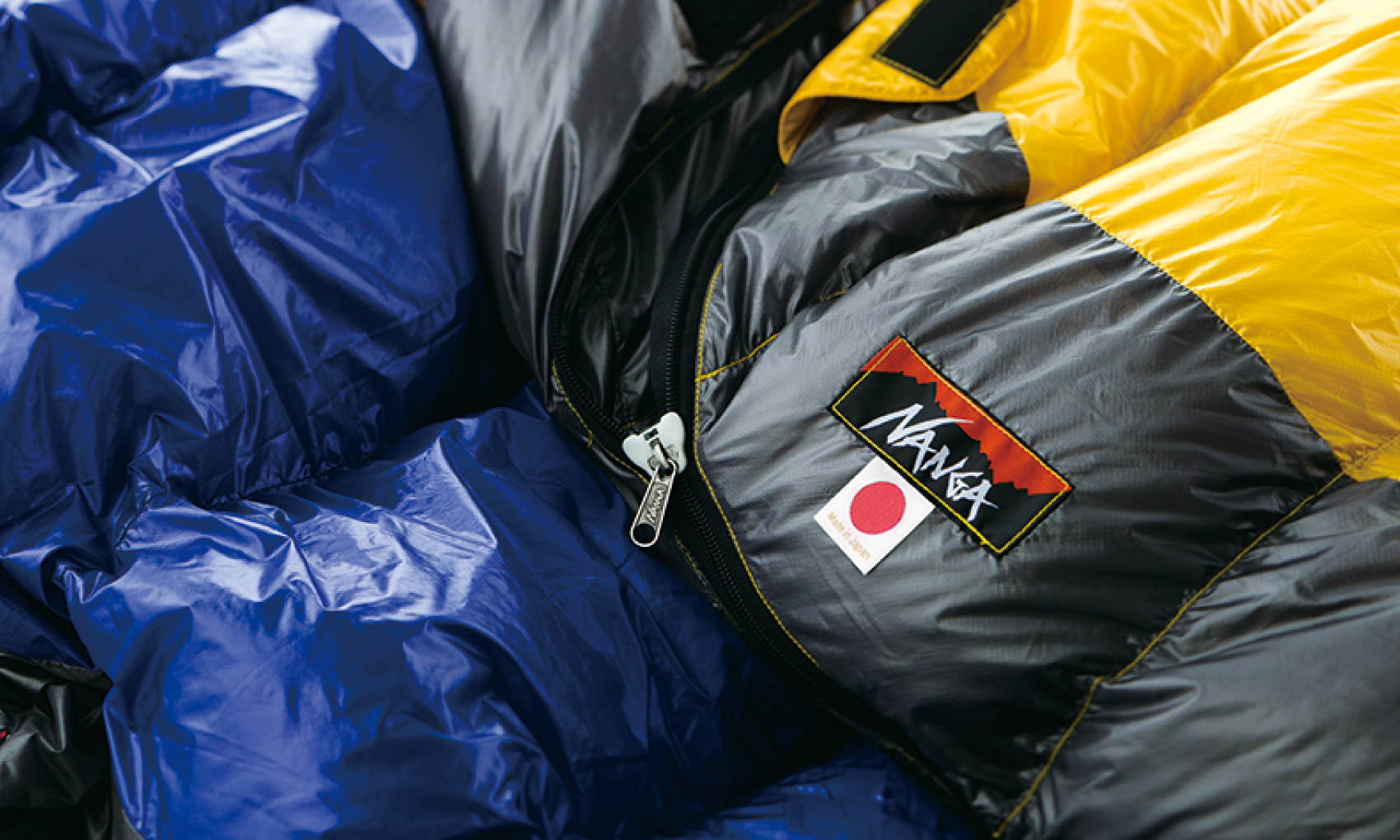 When using a sleeping bag, there is a risk of the zipper catching on the super-thin fabric and preventing the opening and closure of the bag. If severely snagged, the zipper may even cause damage to the fabric. To mitigate such problems, we have attached special YKK parts to the zipper sliders. These parts are developed to diminish the gaps in the zipper slider that causes the snagging, resulting in fewer occurrences of the fabric getting caught as well as reduced damage to the fabric in case of such events. Furthermore, the parts are made from lightweight resin (weighing 1.6 g per piece) with phosphorescent features for easier operation in the dark.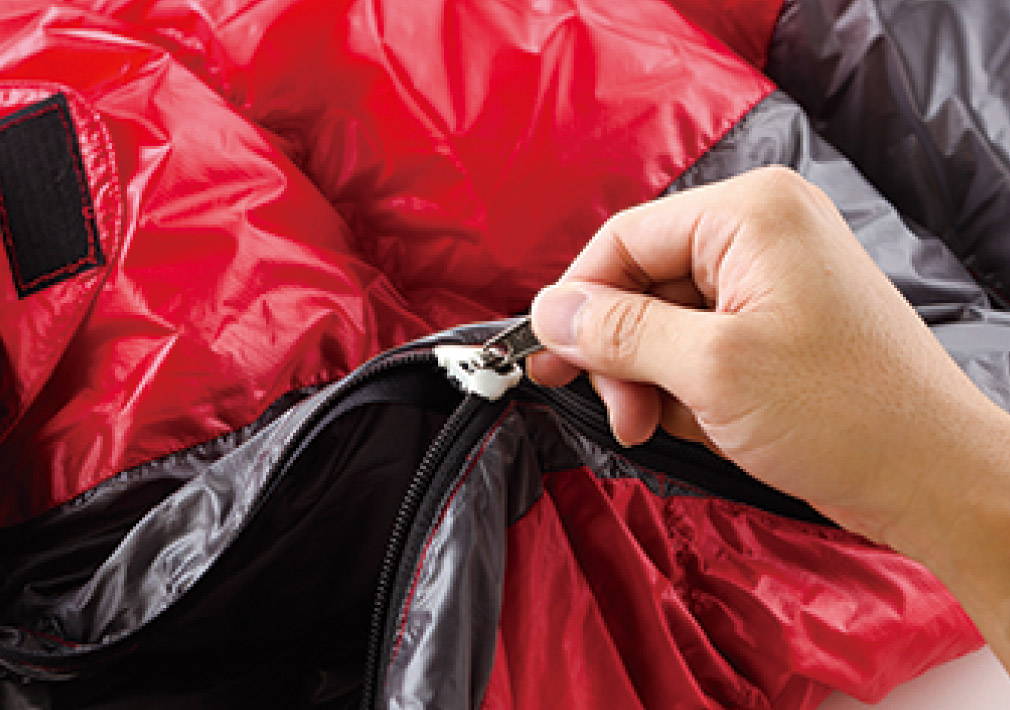 Due to the concave design of the specialized YKK zippers, the fasteners guide the fabric towards the center, reducing any chance of snagging or catching.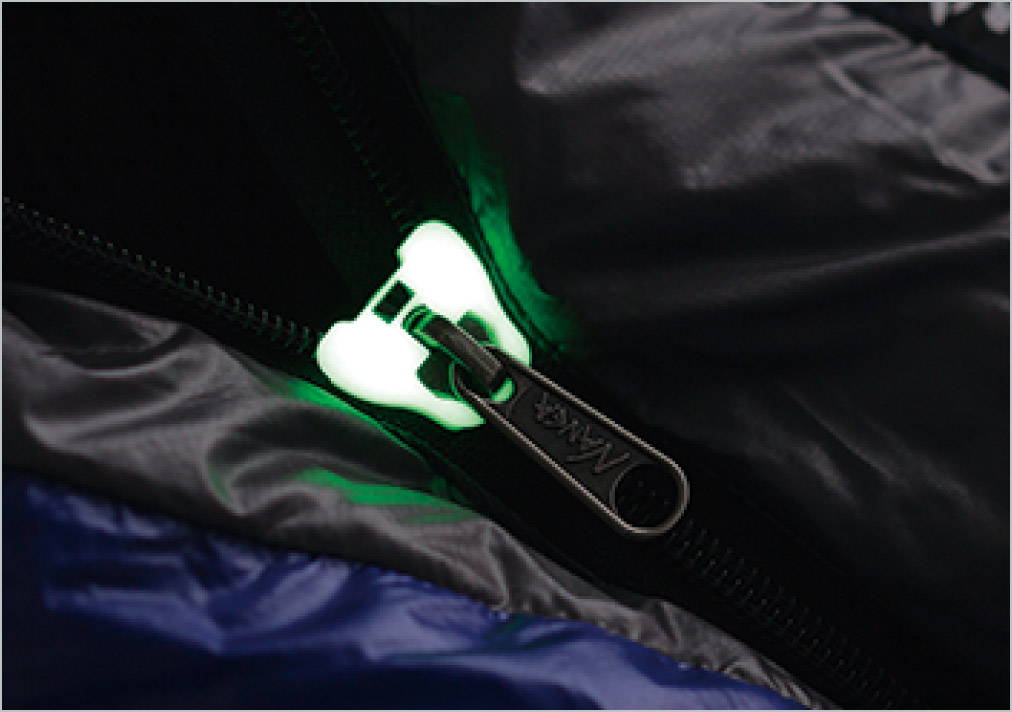 With our phosphorescent technology, finding your zippers in your dark tent will no longer become a hassle.
The next-level sleeping bag construction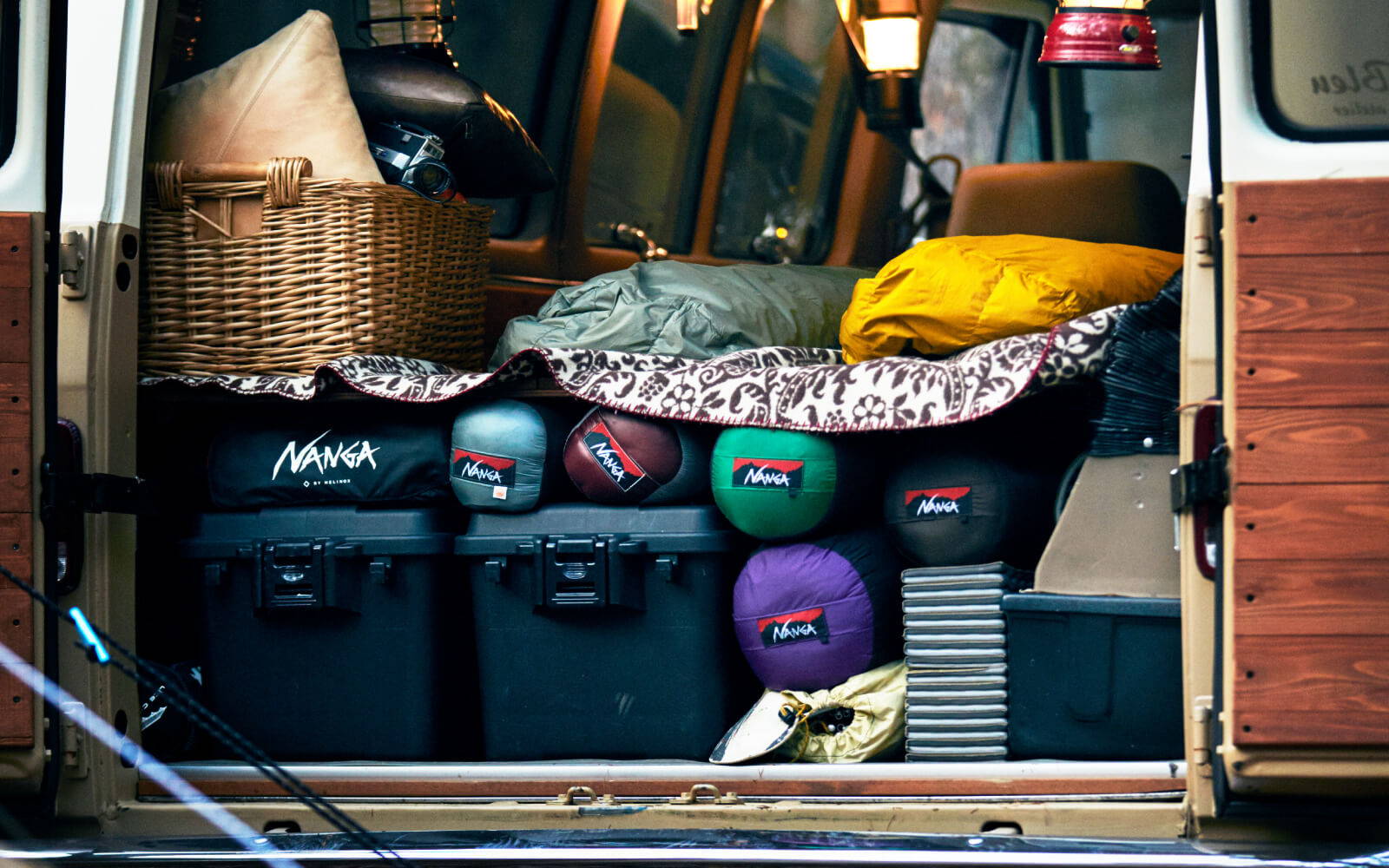 All NANGA sleeping bags are constructed following a trapezoid box baffle pattern structure which brings out the full potential of down. This simple yet sophisticated pattern structure allows any user to absorb the maximum amount of heat possible. The sleek design of our sleeping bags realistically tailors to the human body making it the most efficient in size and capacity.
01. Trapezoid box baffle structure
What makes this pattern structure so efficient is that it prevents the down from bunching up, and also plays a role in reducing the overall weight of the sleeping bag. As the geometric structure supports each other, the full potential of the down is maximized. By reducing the heat radiation, it eliminates any potential bunching, and evenly distributes even heat throughout the sleeping bag.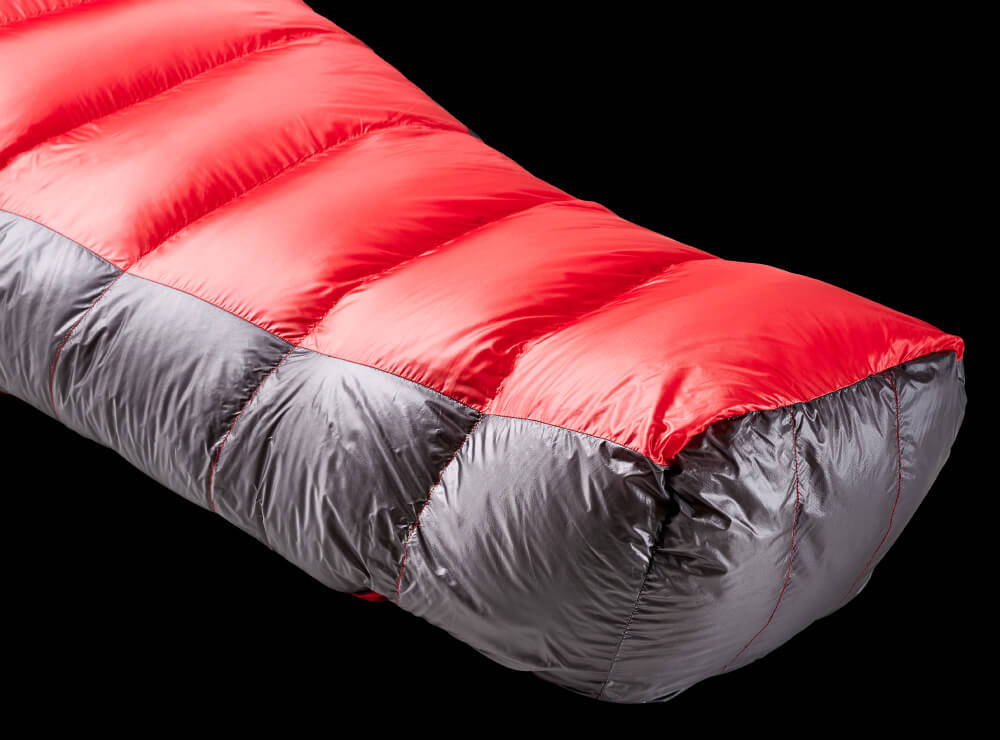 A distinguishing feature of this structure is that it prevents the down from bunching up, and allows for a reduction in weight. Because each of the boxes supports each other, the full loft potential of the down is maximized, and by reducing any diminished heat radiation through potential bunching, heat retention is efficiently distributed throughout the bag.
03. Shoulder warmer & draft tube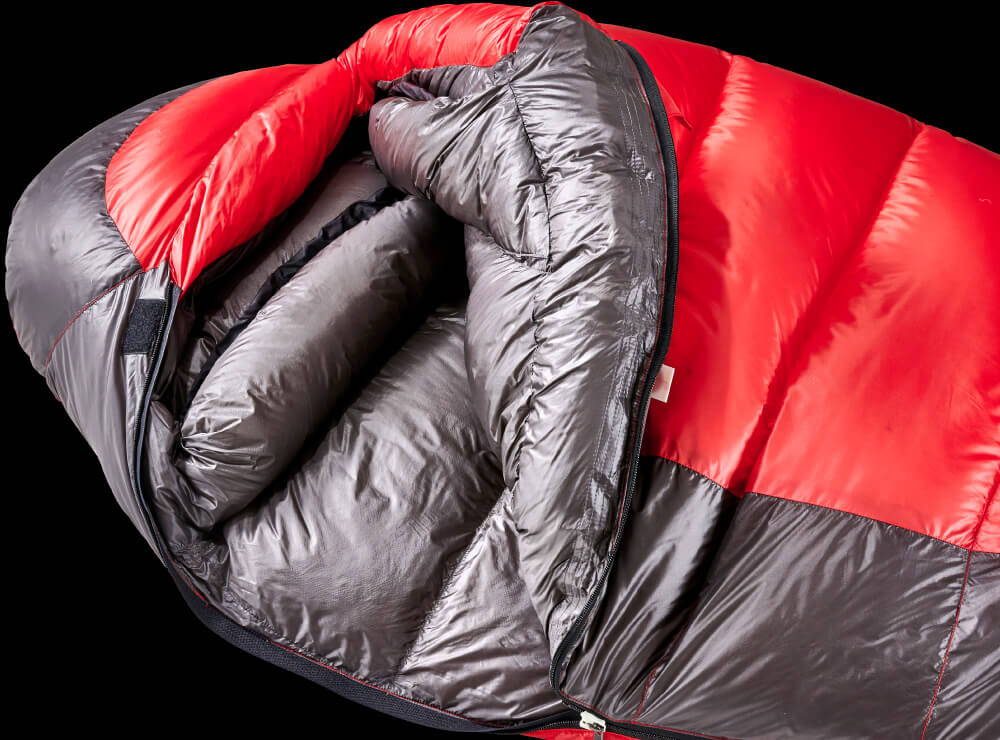 Our shoulder warmer and draft tube prevents any cold air from entering the sleeping bag.
*This feature is only available with our trapezoid box quilt models
04. Three-dimensional hood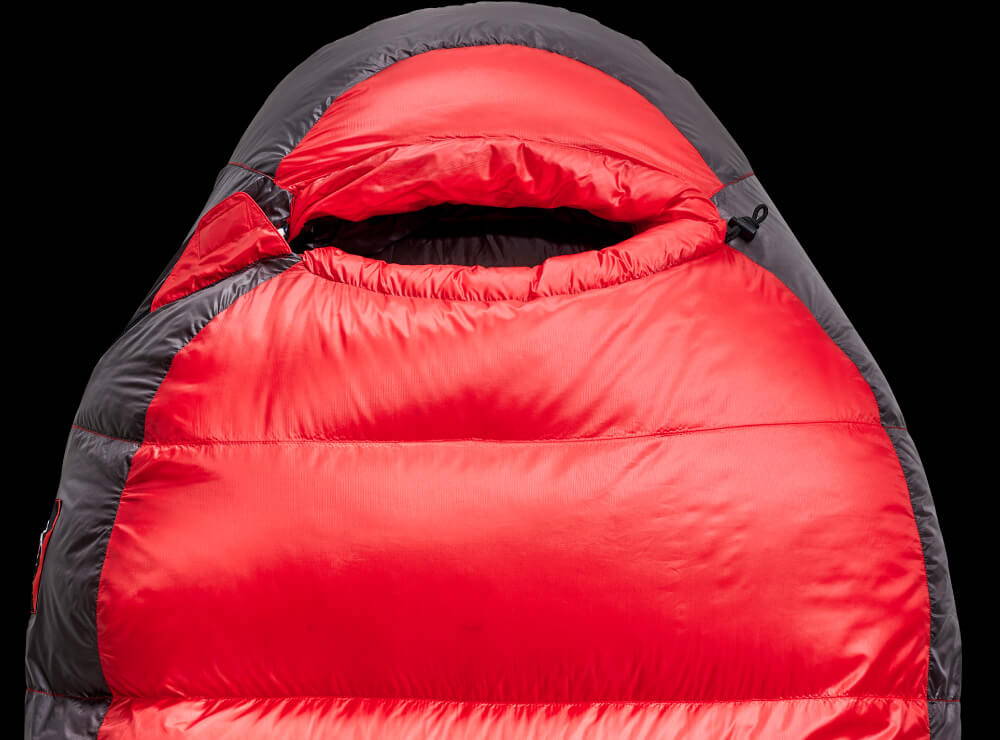 During the cold seasons, its crucial to keep your head warm. The three dimensional hood equipped in specific models blankets your head, and functionally retains the heat so you can stay warm longer. The fastener was designed near the top of the sleeping bag, making zipping up and down your sleeping bag a breeze.