Description
iKamper's smallest and lightest hybrid roof top tent. The X-Cover® 2.0 Mini's design eliminates the PVC cover of traditional roof top tents and replaces it with a tough Rocky Black shell and durable canvas sides. Integrated cross bars mean you can transport bikes, skis, kayaks, and boards as well. Now you only need to choose which gear you want to take.
Note
*
Vehicle cross bars for mounting must be between 22 inch - 37 inch to safely install X-Cover® 2.0 Mini. Additional rack systems (bike, kayak, etc) are not included. Product images are for reference purposes only and may differ to a certain extent from the actual product.
Features
Extra cross bar storage for your bikes, skis, kayaks, and boards
Tough Rocky Black shell with durable canvas sides
2-minute setup
Versatile: smaller footprint that fits just about any vehicle
Sleeps 2 people
Comfortable: 9-zone, insulated 2.75 inch polyfoam mattress
2 black, powder-coated aluminum bars with a load rating of 65 lbs (30 kg)
Thick, durable, breathable blackout canvas 
Wind resistant and quieter than other family roof top tents
Quilted, insulated lining for more warmth and less condensation
High-performance honeycomb aluminum floor panels (strong enough to hold a 1.8-ton Jeep Wrangler) 
Redesigned telescoping ladder with angled steps for safety and comfort 
Strong ripstop rainfly for extra protection
Double Skyview windows for extra light by day and stars at night
Made with unbeatable quality and craftsmanship at our factory in South Korea
Highest international standards certifications (ISO 9001 Quality Management and ISO 14001 Environmental Management) 
Universal mounting system fits most vehicles and cross bars
Customizable with accessories: Annex Plus, Awning, Shoe Rack, Storage Rack, Insulation Tent, Rain Canopy, Mounting Bracket Locks, etc.
Includes Mounting Brackets 3.0, iKamper Allen Wrench, HC Ladder, 2 Keys, Hard Shell Wax (Gloss Black), Tension Poles, 4 Rail Endcaps, Instruction Manual
Install Guide (PDF)
Download the X-Cover 2.0 Mini Manual here.
Floor:
High-performance honeycomb aluminum panels

Tent Fabric:
Breathable, black-out, 300gsm poly-cotton canvas

Rainfly Fabric:
Waterproof polyester 75D ripstop rainfly w/ eco-friendly water-repellent (DWR) coating

Mattress:
9-zone, 2.75" thick, insulated polyfoam

Shell:
Scratch/UV resistant Rocky Black FRP shell with durable canvas sides

Seasons:
4-Season

Sleeping Capacity:
2 people

Weight:
119 lbs (54 kg)

Height (Closed/Open):
13" / 46"

Footprint:
89" x 51" / 31.5 sq ft
The Compact, Hybrid Roof Top Tent
This hybrid design has a small footprint that makes it practical for any vehicle. At 119 lbs the X-Cover 2.0 Mini is one of the lightest roof top tents on the market. In case that wasn't enough, it also features cross bars so you can transport bikes, skis, kayaks, and boards. Now you only need to choose which gear you want to take. This versatile 2-person RTT is packed with features that you'll appreciate!
100% Waterproof
Every rainfly is made of fully waterproof ripstop polyester to keep you dry in unpredictable weather.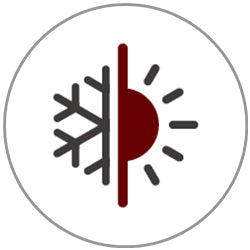 4-Season Rated
Constructed with breathable, high-density poly-cotton canvas, waterproof zippers and rainfly, convertible windows, and insulating mattresses to reduce condensation. Designed to keep you dry and comfortable in every season.
Camp in Comfort
Get up off the ground and camp like never before. This spacious roof top tent has expansive windows and high-density, polyfoam mattresses so you can enjoy every moment.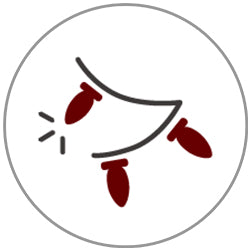 Convenient Storage
Spend less time making your bed, and more time enjoying it. This roof top tent is designed to store down sleeping bags and pillows inside, even when the tent is closed.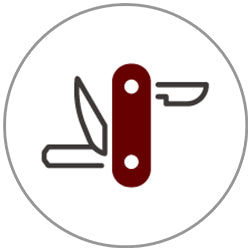 Easy to Install
Patented, universal mounting hardware included.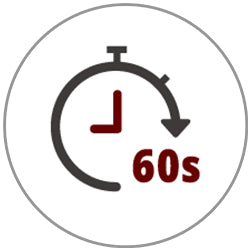 Effortless Setup
Forget about fussing with tent poles. This tent sets up in 3 minutes or less.
Uncompromising Quality
Each iKamper tent is precision-crafted at our own factory to ensure durability. Just like all of our products, the X-Cover 2.0 Mini has gone through comprehensive testing to withstand real-world conditions.
Compact
A natural fit for compact cars, crossovers, trucks, and hatchbacks. X-Cover 2.0 Mini has all the features of larger models packed in a smaller footprint.
Creature Comforts
Thick 300gsm poly-cotton canvas blocks out light so that you (or your kids) can sleep well past sunrise.
Dynamic
The rear window has been redesigned for a greater range of functions. It can act as a windbreak, used as a canopy, and even function as blinds.
Ready for Anything
Integrated cross bars make this RTT a veritable workhorse. Mount rack systems on top to transport whatever gear your adventure requires.
Sleep Under the Stars
Windows on all sides, give this compact tent all the grandeur of an executive suite. Double Skyview windows take it even further, extending the interior to the cosmos.
Streamlined
Utilizing a new, single tension pole design, the X-Cover 2.0 window awnings are sleeker and easier to deploy.
How to Mount & Install an iKamper Roof Top Tent
Thanks to our universal mounting system, iKamper roof top tents fit on most vehicles.

They are designed to be mounted on two normal cross bars (not directly on the roof of the car), such as ones from Front Runner, Rhino Rack, Thule, Yakima, or any other after-market cross bars (same bars you would attach your bike or Kayak to). Our tents come with Mounting Brackets 2.0, which are compatible with a max cross bar height of 1.2" (3cm) and a width of 3.5" (9cm). For higher cross bars, Mounting Brackets 1.0 should be used.

Check your vehicle's manual or contact the manufacturer to know your roof's dynamic weight limit (more info below).

iKamper RTTs have two rails underneath the main panel, and are mounted on your cross bars with adjustable mounting brackets. Check the spacing of each model's mounting rails below to make sure it fits your rack. The rails are 1.77" / 4.5cm wide and 0.98" / 2.5cm tall.
Mounting Requirements
Dynamic weight refers to the weight supported by your vehicle when it is in motion and your roof top tent is closed, while static weight refers to the weight supported by your vehicle when it is stopped and the tent is deployed. The dynamic weight requirements for your vehicle and cross bars / rack system to accommodate our roof top tents is essentially equal to the weight of the tent itself.
The dynamic weight capacity takes into account various forces at play when your vehicle is in motion (acceleration,  terrain, turning, etc.). 
We recommend after-market cross bars / rack systems as they have a higher dynamic weight capacity than stock cross bars.