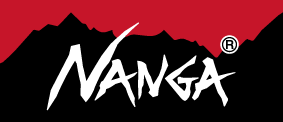 Established in 1941, NANGA was founded at the foot of Mount Ibuki, in Maibara. Our founder, Akira Yokota started with the goal of wanting to discover the unknown. To discover the unknown, Yokota merged groundbreaking technology with high end materials that has helped thousands of explorers get to their destination. Our name, "NANGA," was adopted from the Himalayan mountain "NANGA PARBAT." The mountain towers at over 8000 meters and is the ninth highest mountain in the world. Notoriously named "Killer Mountain," it is responsible for numerous deaths and to this day still considered dangerous. At NANGA, our philosophy is to produce responsible and relevant products that help you get to where you want to be. For over 70 years, NANGA has demonstrated excellence through technology and continues to dominate in its field.
At NANGA, quality control, safety features, and customer satisfaction never get overlooked. Our attention to detail is how we developed our brand and is embedded in its philosophy. Only using ethically sourced European white duck down, all of our products undergo serious quality tests before being put to use.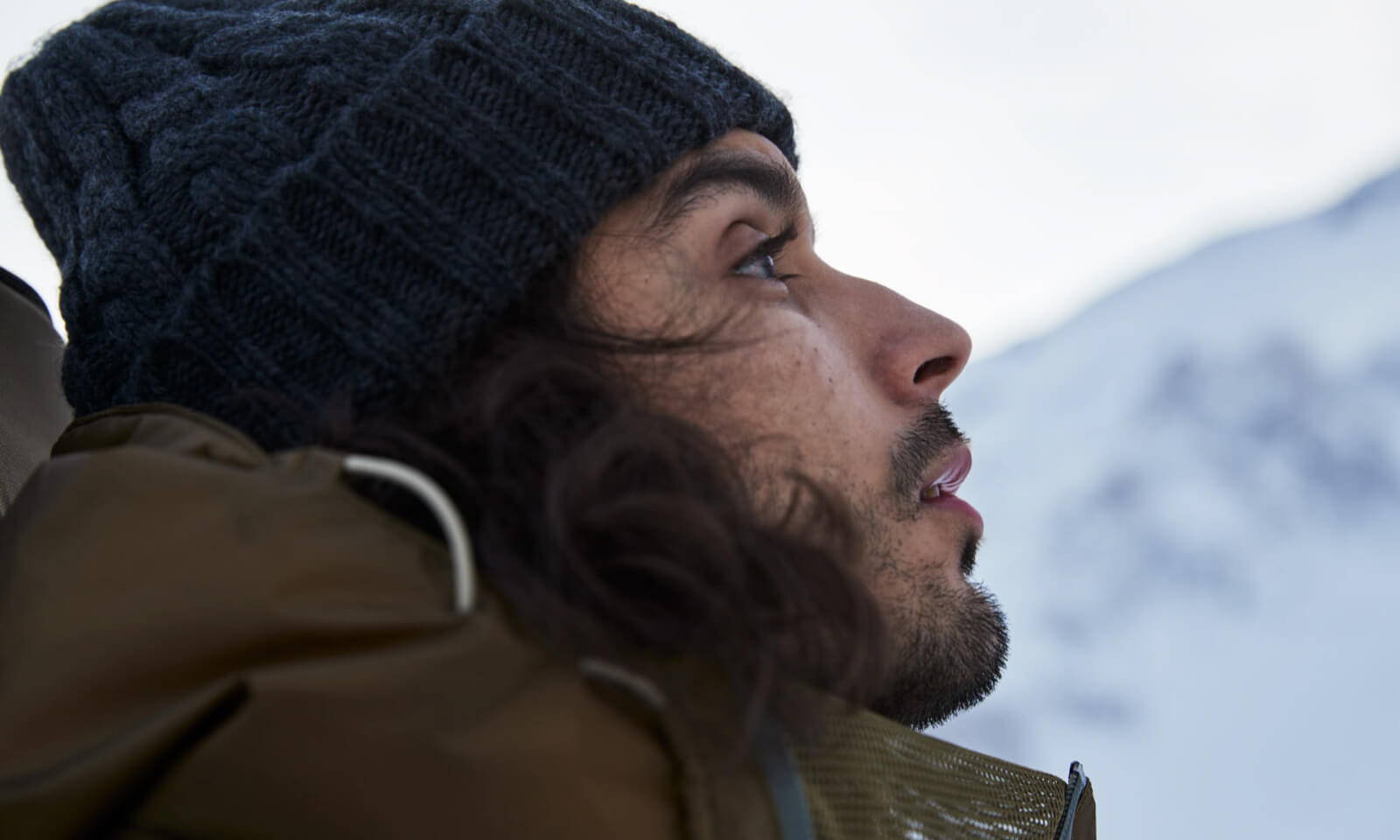 NANGA x YKK parts which reduce snagging and catching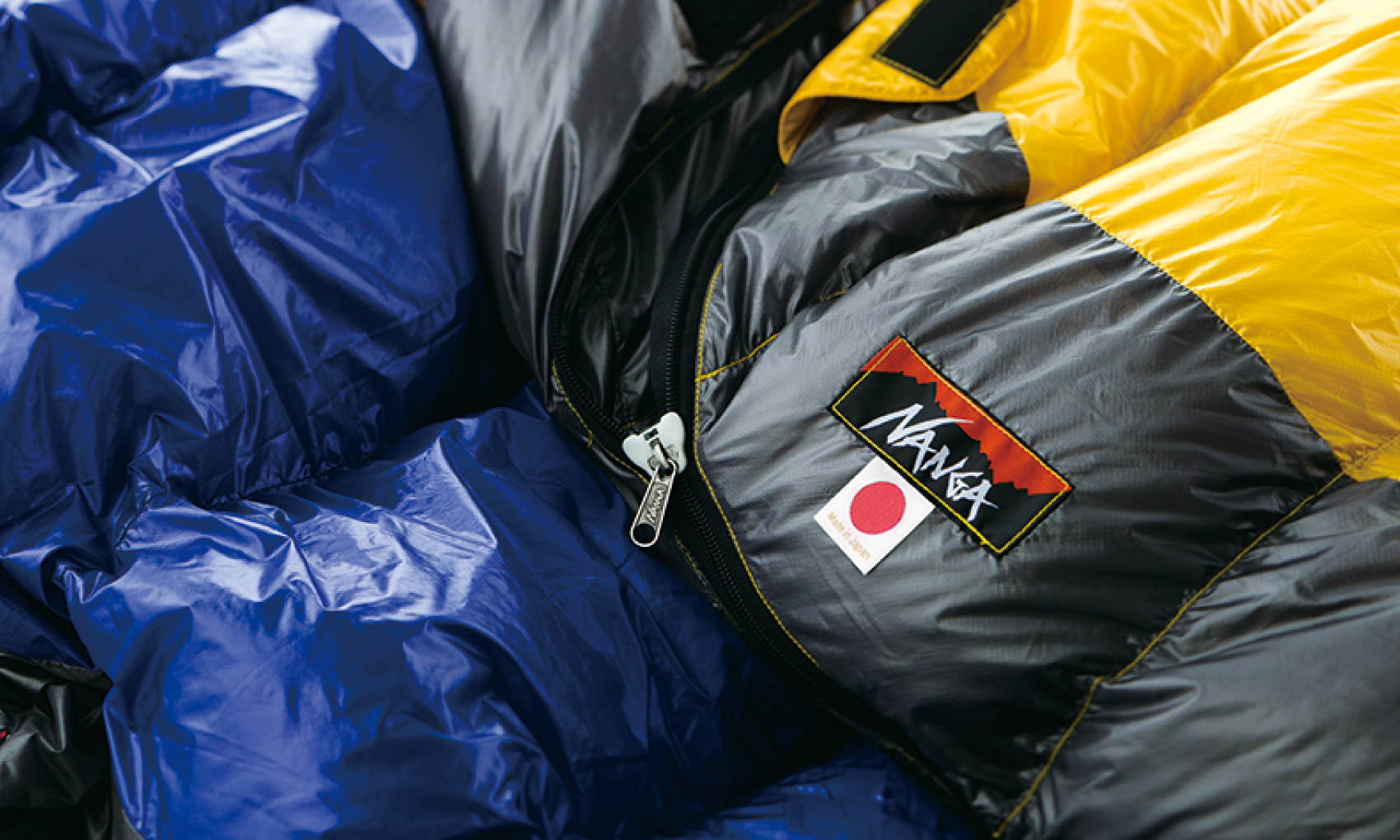 When we said we pay attention to the details, we weren't kidding. Our specialized YKK zippers that were developed for all of our sleeping bags prevents snags and rips. In an environment where you don't have the time to deal with the little things, we got you covered. The zippers are also fluorescent therefore can be easily seen in dark situations.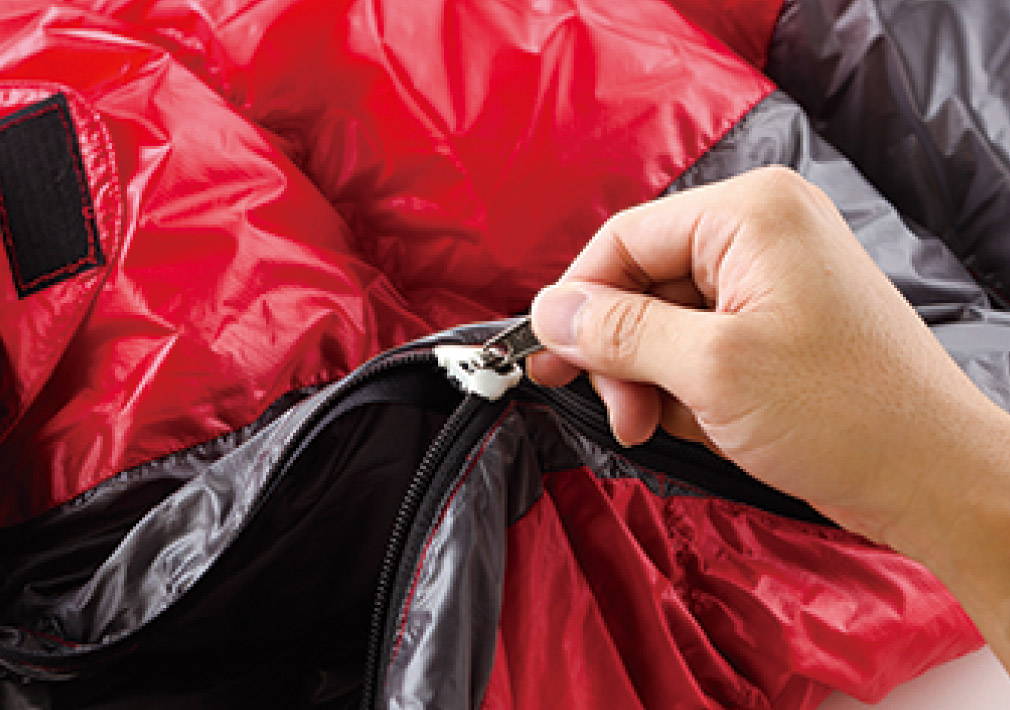 Due to the concave design of the specialized YKK zippers, the fasteners guide the fabric towards the center, reducing any chance of snagging or catching.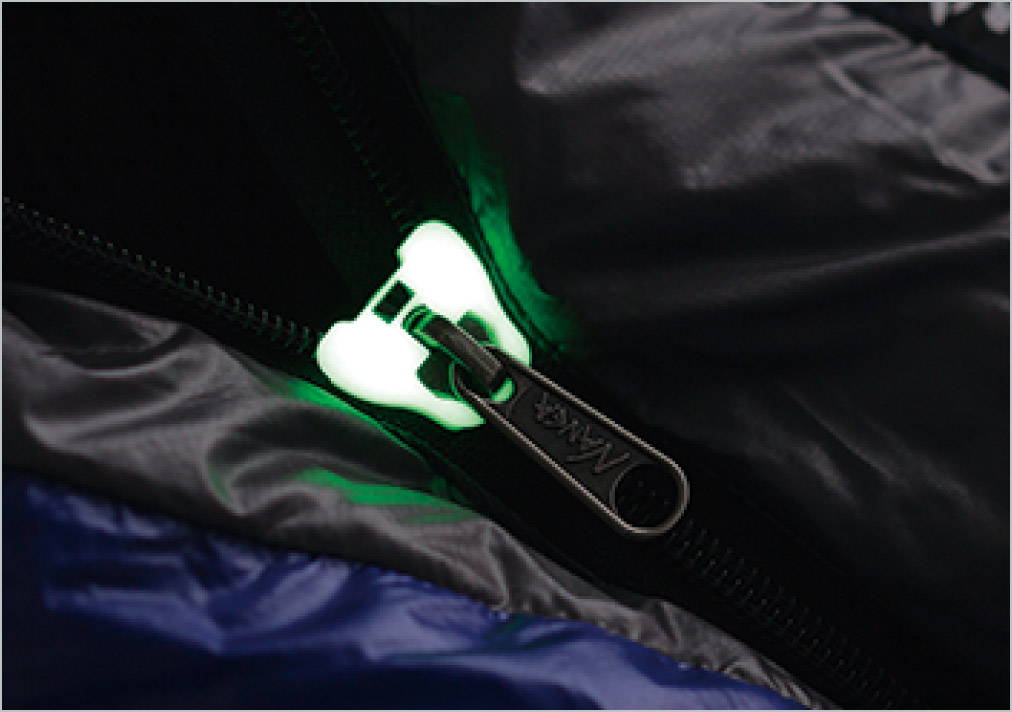 With our phosphorescent technology, finding your zippers in your dark tent will no longer become a hassle.
A new level of sleeping bag construction for efficient heat retention.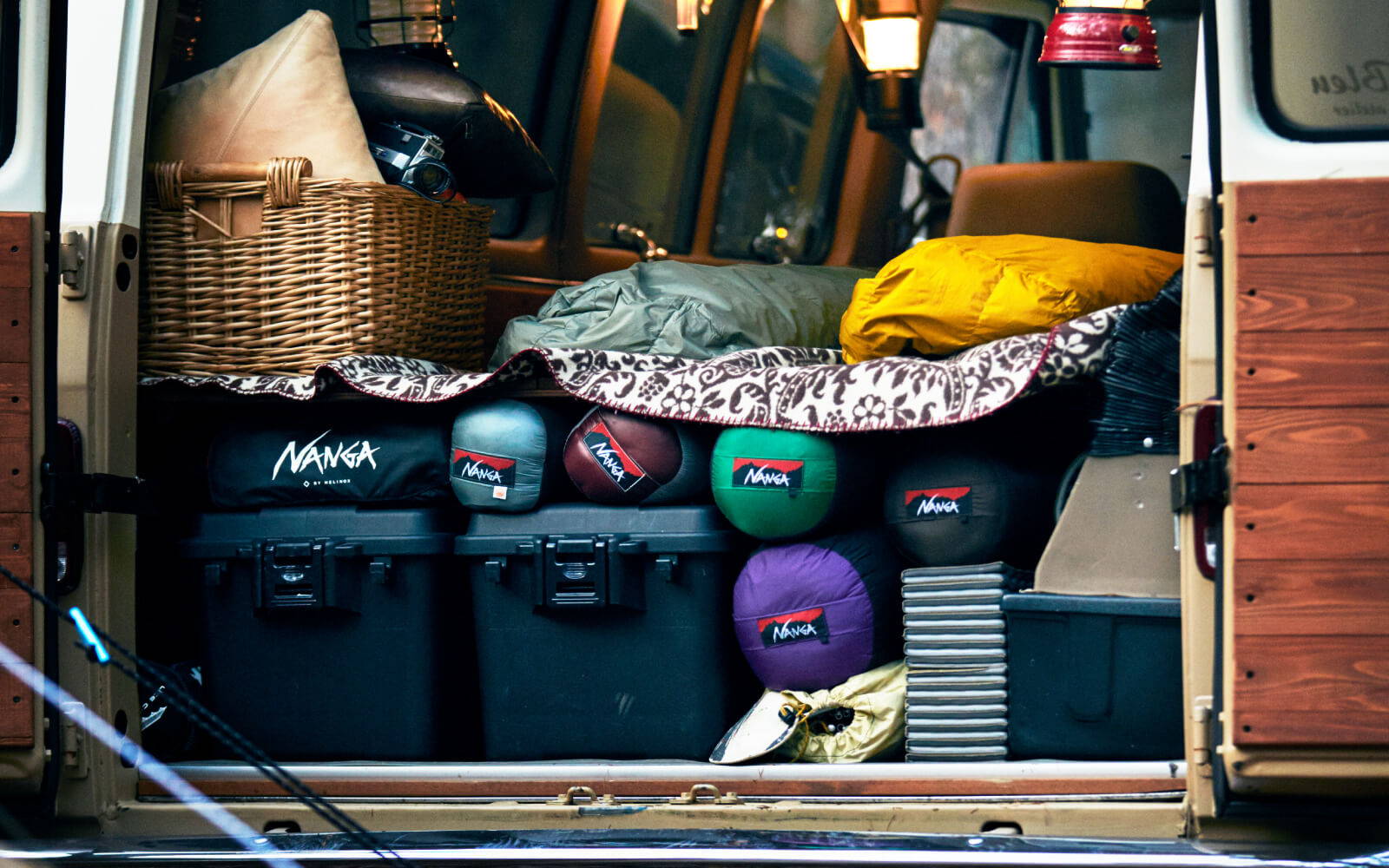 All NANGA sleeping bags are constructed following a trapezoid box baffle pattern structure which brings out the full potential of down. This simple yet sophisticated pattern structure allows any user to absorb the maximum amount of heat possible. The sleek design of our sleeping bags realistically tailors to the human body making it the most efficient in size and capacity.
01. Trapezoid box baffle structure
What makes this pattern structure so efficient is that it prevents the down from bunching up, and also plays a role in reducing the overall weight of the sleeping bag. As the geometric structure supports each other, the full potential of the down is maximized. By reducing the heat radiation, it eliminates any potential bunching, and evenly distributes even heat throughout the sleeping bag.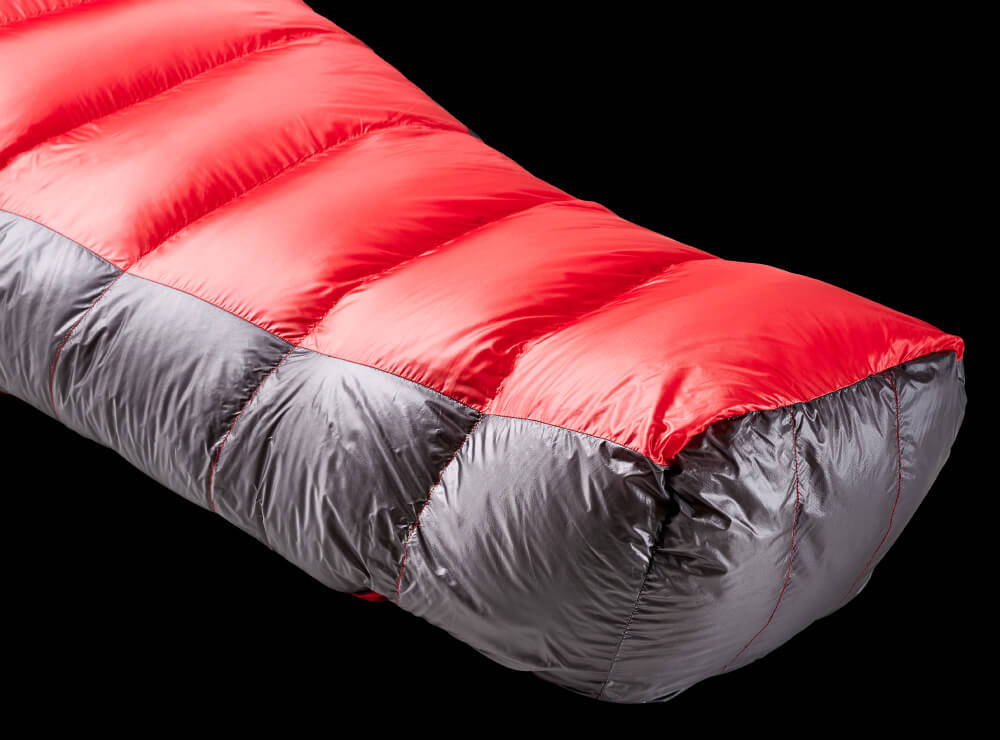 A distinguishing feature of this structure is that it prevents the down from bunching up, and allows for a reduction in weight. Because each of the boxes supports each other, the full loft potential of the down is maximized, and by reducing any diminished heat radiation through potential bunching, heat retention is efficiently distributed throughout the bag.
03. Shoulder warmer & draft tube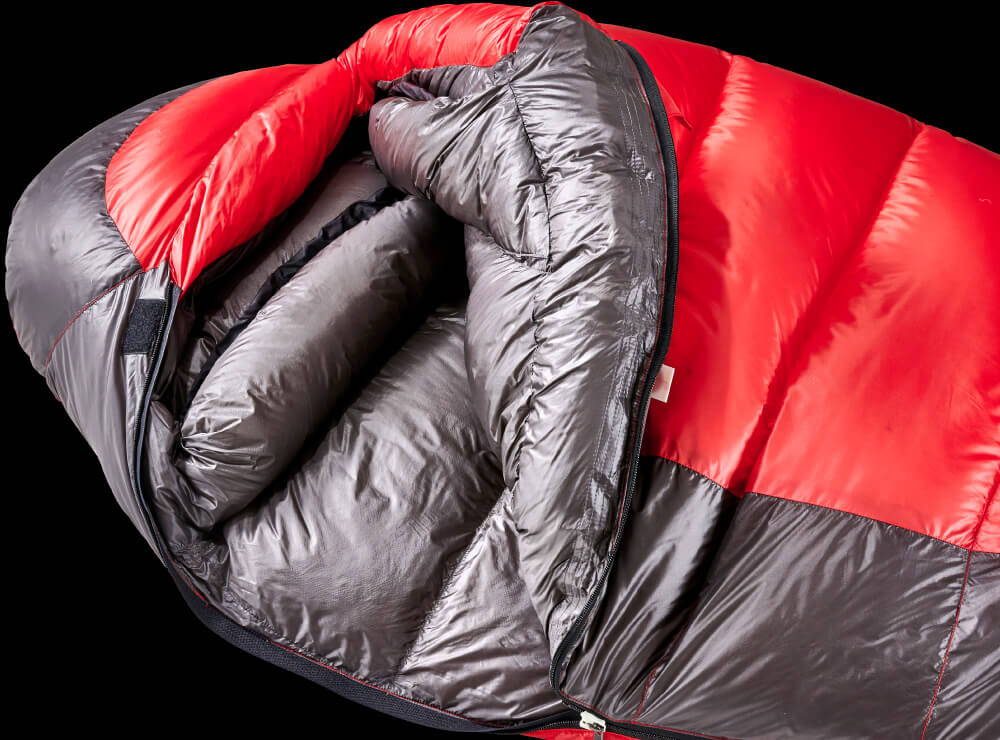 Our shoulder warmer and draft tube prevents any cold air from entering the sleeping bag.
*This feature is only available with our trapezoid box quilt models
04. Three-dimensional hood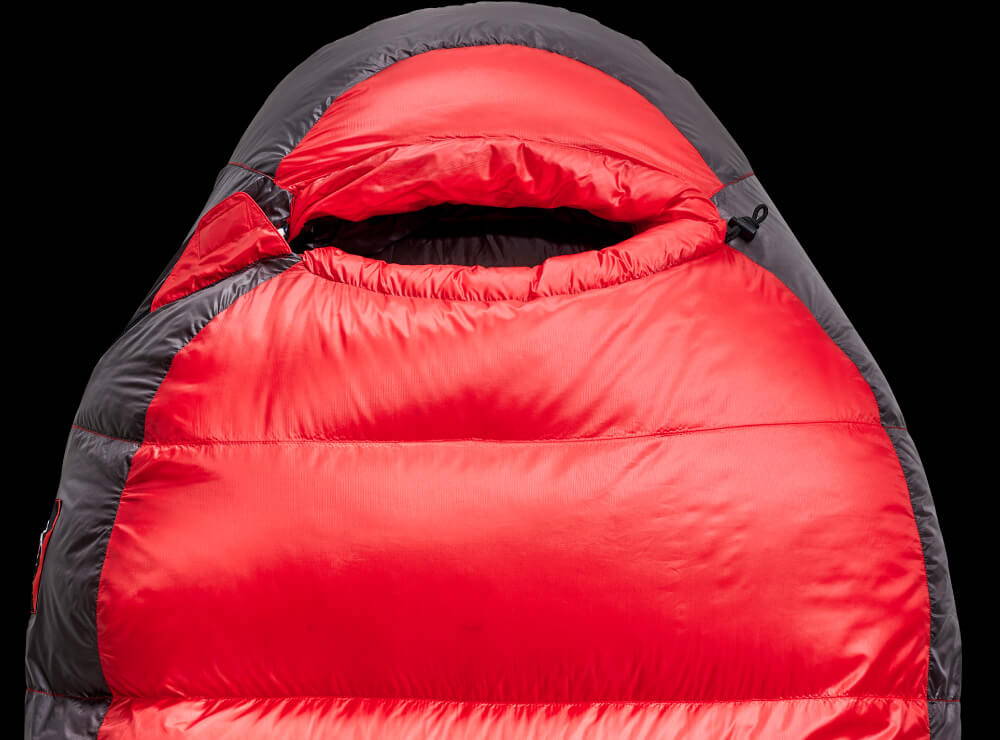 During the cold seasons, its crucial to keep your head warm. The three dimensional hood equipped in specific models blankets your head, and functionally retains the heat so you can stay warm longer. The fastener was designed near the top of the sleeping bag, making zipping up and down your sleeping bag a breeze.
Introducing the functionality that integrates NANGA's technology and philosophy
At NANGA, we only work with the finest materials in order to create high quality products. Through rigorous tests, our skilled artisans meticulously hand select the imported European white duck down that was shipped overseas to us in Japan. A sophisticated refining process is a crucial step in our development process as it maximizes the potential of the characteristics of the down.

By using the locking drawstring it is possible to adjust temperature and fit.
02. Three-dimensional hood
Insulating material in the shoulder area prevents warm air from escaping. Equipped primarily on 3 and 4 season sleeping bags.
Internal tube blocks cold air from coming in through the gaps in the zipper, preserving warmth. Equipped primarily on 3 and 4 season sleeping bags, same as the shoulder warmer.
Equipped with YKK5C. Considered to be the optimal zipper for sleeping bags based on strength testing by YKK.
The regular size has a max length of 210cm and a max width of 80cm, making for a comfortable bag. We also offer long and short versions.
About Product Construction
The 3 quilting structures used by NANGA. We leverage a deep understanding of the strengths of each type to identify the optimal application for each product.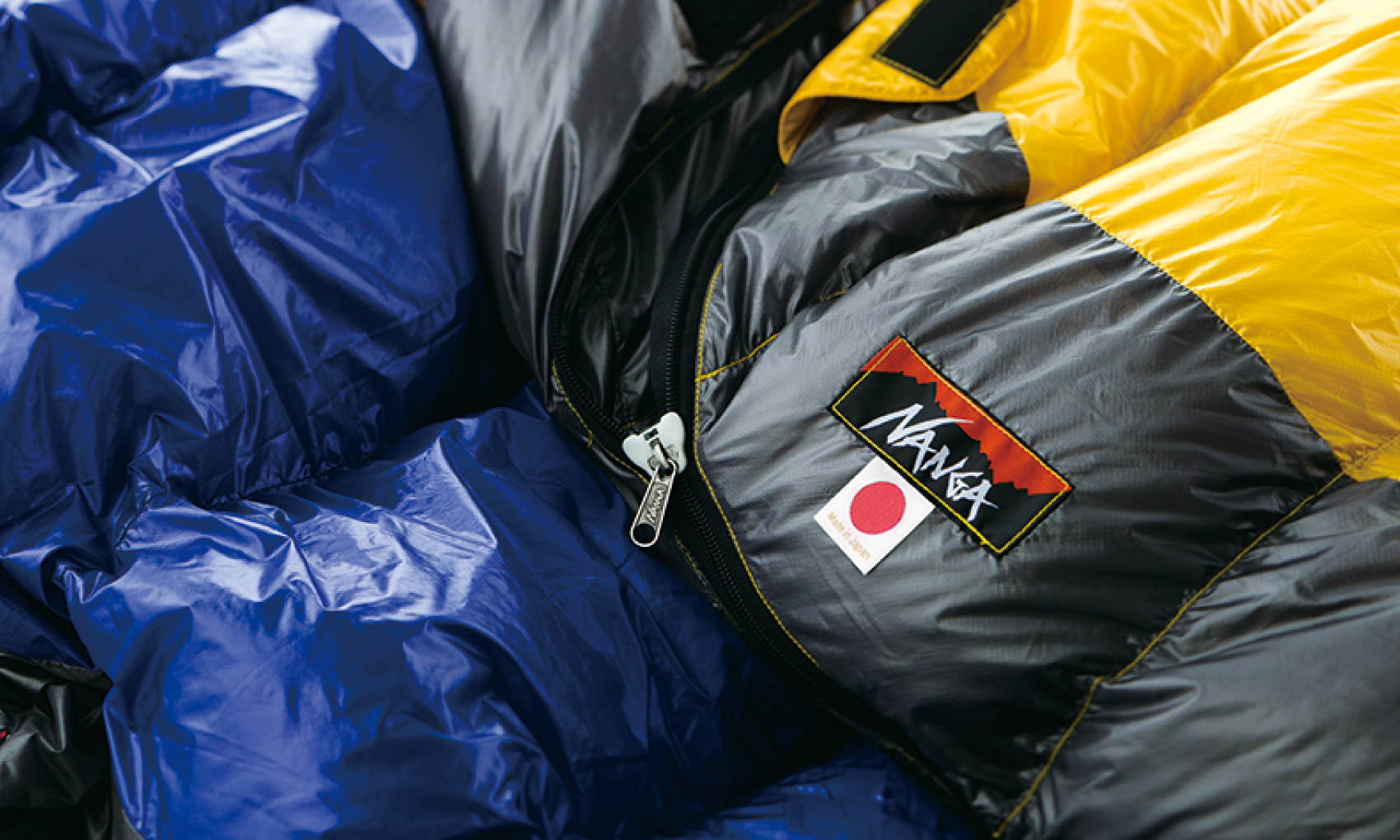 This sleeping bag features a new level of technology, with a trapezoid box baffle structure and solid structure which maximizes the full potential of down, and allows stress-free and efficient heat retention no matter what position you sleep in. By narrowing the feet area, we have successfully reduced weight.
Single quilt construction
This method is very simple and minimizes weight. The inside and outside layers are directly sewn together for lightweight and compact construction. This construction is used for summer bags.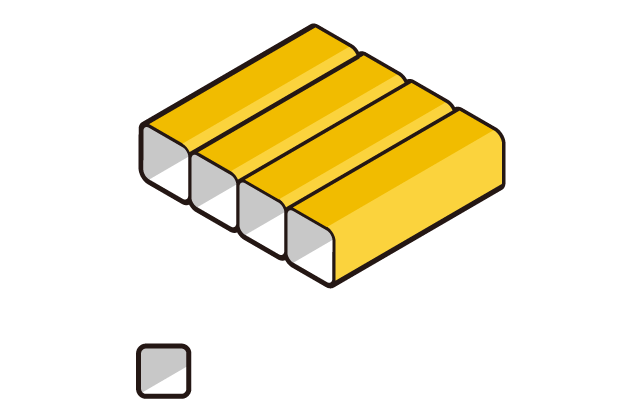 This is the most efficient method for optimizing the insulating quality of down. A breathable mesh is layered between the inside and outside layers, and is equipped with crosswise boxes to prevent clumping to one side.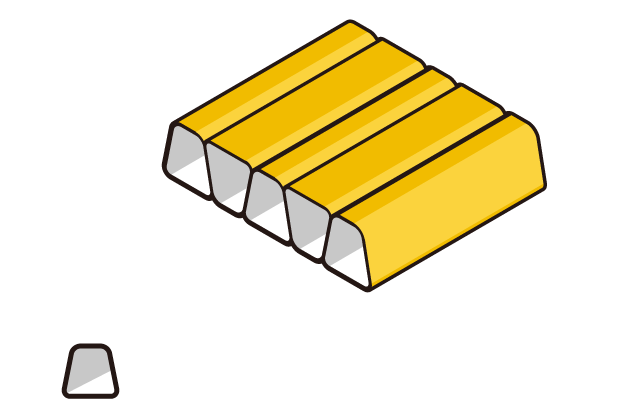 Trapezoidal box construction
Boxes support each other in this construction; this maximizes the down's "loft," and efficiently insulates by minimizing clumping and heat release.
About Materials for The Product
The materials used by NANGA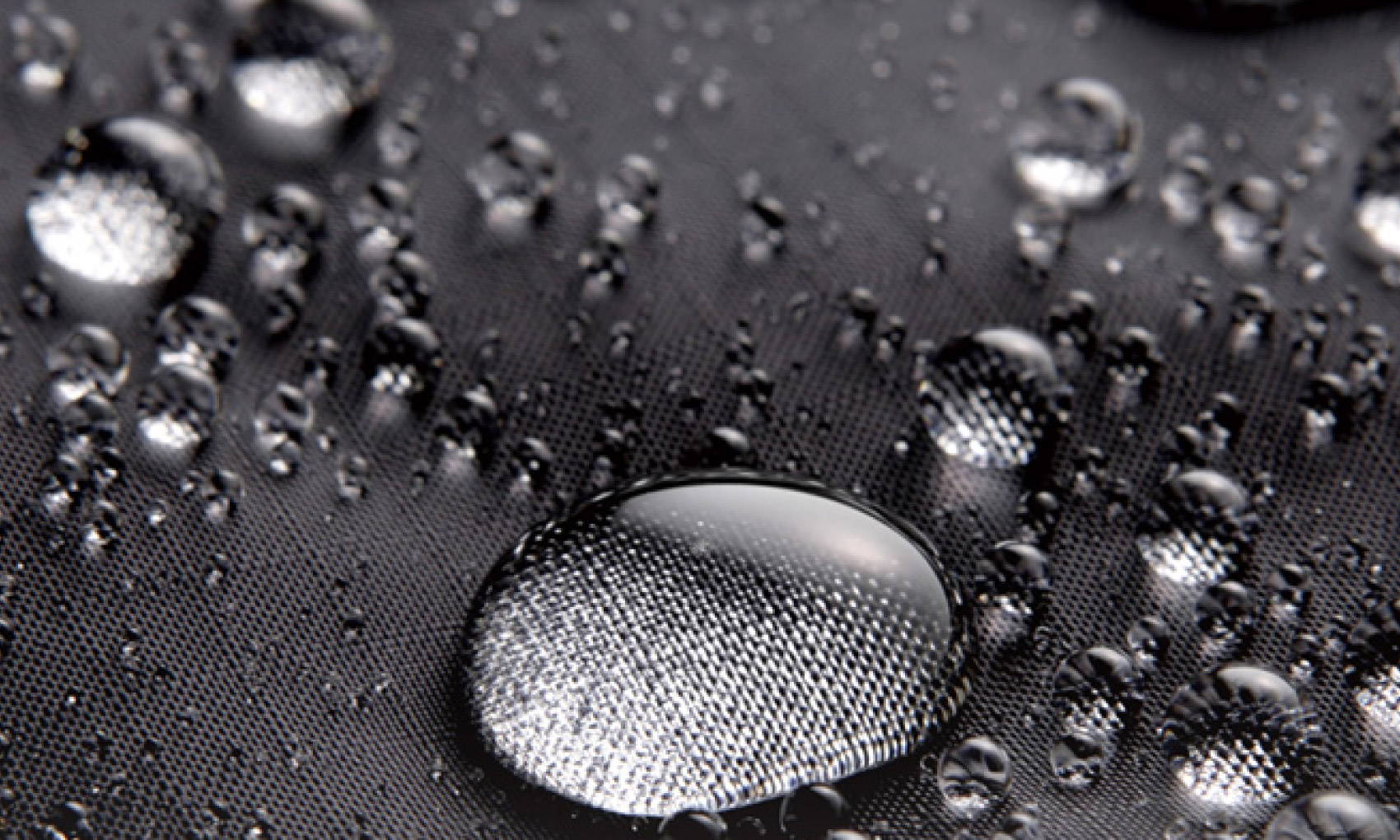 With both a shoulder warmer and draft tube, the entry of cold air is prevented. However, these features are available only in the trapezoid box quilt model.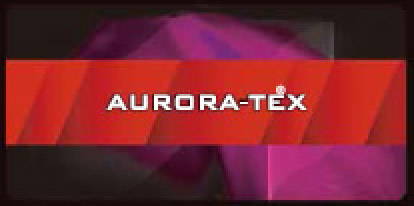 It is among the most lightweight of synthetic fibers, and offers elasticity and frictional strength. Dirt easily comes off of this smooth surface, making it easy to care for; it is minimally absorbent so it dries quickly even if it gets wet. It is compatible with many compounds, and can be used with water repellent or breathable waterproofing coatings.
* Denier A unit of fiber density. 1 Denier(dn) = a fiber with a weight of 1g at a length of 9,000m The higher the Deniers, the thicker the fiber; materials using thicker fibers are more durable.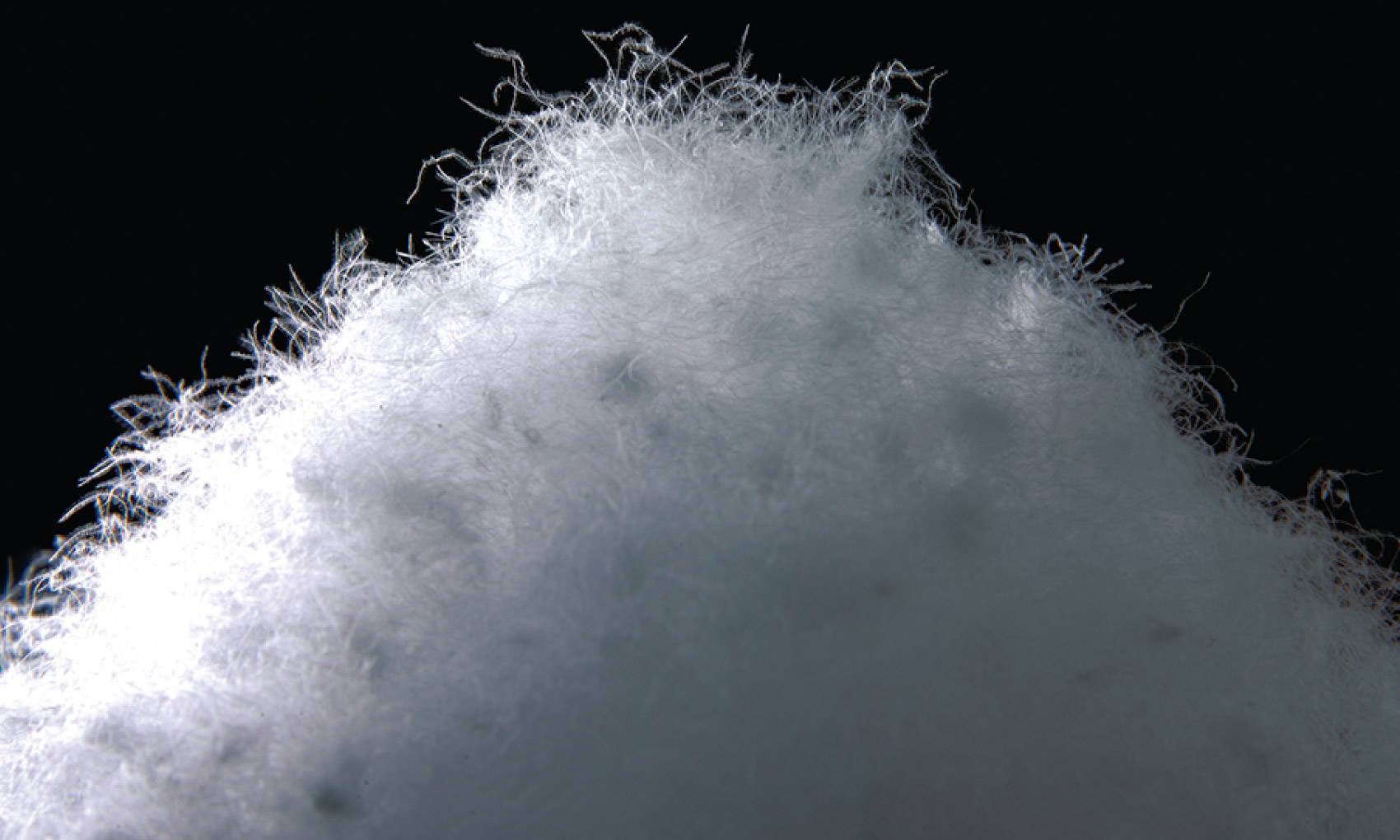 NANGA down is carefully selected at sites where it is produced, and aims at the highest quality. Washed and refined domestically, NANGA guarantees the utmost in quality.
NANGA uses the down from mature waterfowl. Because it is washed and refined domestically, it has the high functionality for temperature and humidity control that belongs essentially to down, and is sturdy without the smell that is peculiar to down.
Only Hungarian Silver Goose down is used, which is washed domestically. 90-7% down with a fill power of 930 FP, a very high degree of thermal insulation.
Only Polish White Goose down of the highest quality is used, which is washed domestically. 93-7% down with a fill power of 860 FP, a very high degree of thermal insulation.
Ultrahydrophobic (super water-resistant) processing is added to DX down, yielding a high quality, high performance down with a fill power of 770 FP. Down and a water-repellant resin are joined at the molecular level, blocking the permeation of water by making a wall of fine particles. It is the highest grade of down, which "lets moisture pass through, but does not absorb water."
Only European White Duck down is used, which is washed domestically. 90-10% down with a fill power of 760 FP. It is a high-quality down, excelling in cost and performance.
expresses the "down strength" and "resistance to pressure" according to standards for measuring down. A fill power of 760 means that if 30g of down is pressed down on with normal pressure in an experiment, it shows a resistance of 760 cubic inches. The higher the FP rating, the better the down is.
The quality of down is examined by the IDFL (International Down and Feather Testing Laboratory) of the United States, and only down that has met each fill power is used.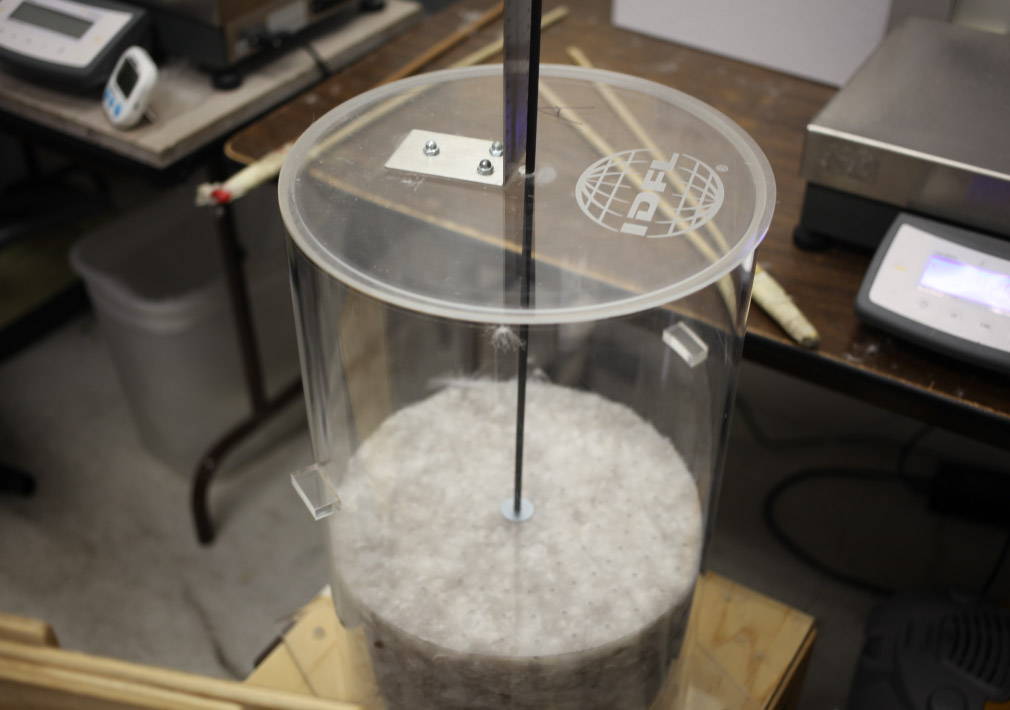 Proof of Country of Origin
We attach proof of the country of origin for the down used in NANGA down products. This proves that NANGA down uses only European down.
HUNGARIAN SILVER GOOSE DOWN
For temperature ratings, NANGA uses the uniform standard used in European countries (European Norm).
EN (European Norm) is the name of the uniform standard that has been established in Europe. It is also called the European Standard. The calculation of temperature ratings for sleeping bags is defined by EN13537. Manufacturers used to calculate temperature ratings by their own methods, but now ratings are displayed based on unified criteria. Tests are conducted by authorized third parties for fairness. This is a big difference from temperature ratings based on manufacturers' own standards.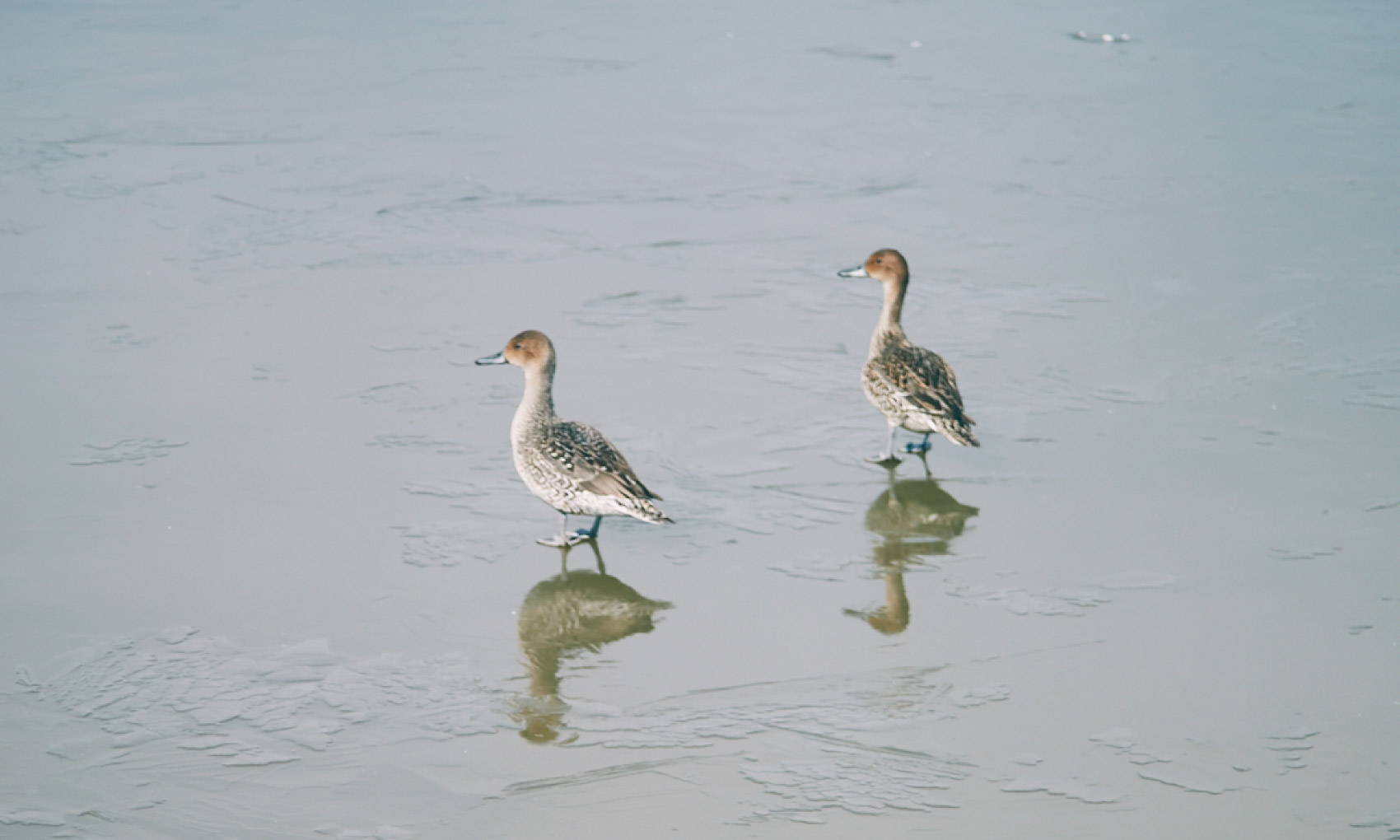 A mannequin equipped with temperature sensors is dressed in long sleeves and underwear down to the ankles, then laid inside a sleeping bag on top of a camping mattress. Temperature is measured at 5 locations inside the mannequin, and heat radiation levels are also measured. The measured temperatures and the room temperature in the laboratory are plugged into an equation to produce a value. A sleeping bag's ability to retain warmth is affected not only by the amount of stuffing, but also by the type and thickness of the fabric and accessories like zippers, so all these elements are judged comprehensively in the test.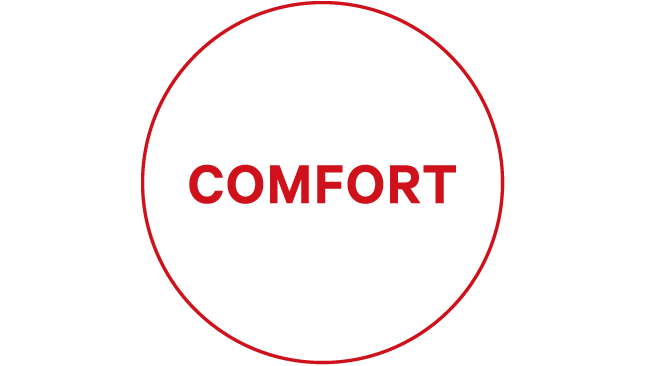 The temperature range at which an average adult woman can sleep without feeling cold. (Since women generally feel cold more easily than men, this level is calculated around 5℃ higher.)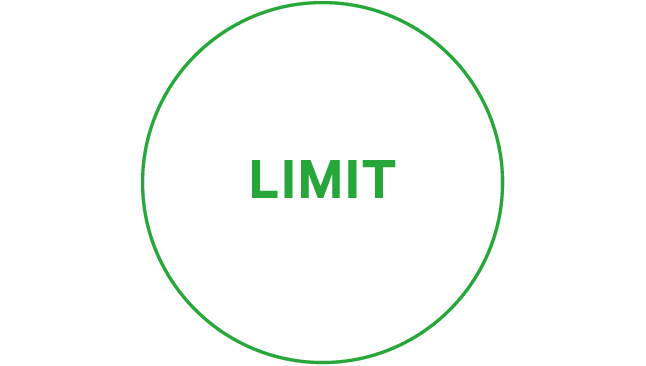 The temperature range at which an average adult man can sleep for 8 hours curled up inside the sleeping bag (lower temperature limit). Temperatures lower than this are in a risky range.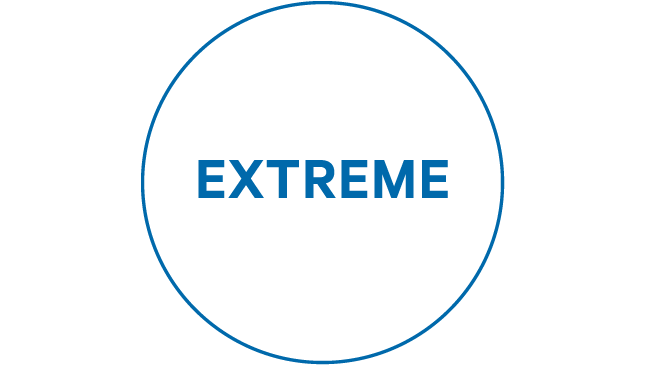 The temperature range an average woman can handle for up to 6 hours curled up enough to hug her knees. The body will shiver in an attempt to product heat, and basal metabolism will increase. Using a sleeping bag at this temperature range also brings risk of hypothermia, and is extremely dangerous.
* Displayed temperatures are for reference only. Actual results vary widely between individuals depending on experience, strength, and physique. Please remember that the ratings are only for reference.
* Women should refer to Comfort, and men should refer to Limit.
A four-part introduction to Nanga's recommended down product life cycle
The down used by Nanga begins as high-quality, unprocessed, imported down. It is then cleaned and processed by a Japanese domestic down manufacturer, before being made by Nanga into finished products. These products can be used anywhere, from in town to the great outdoors. Their lives can be extended with proper care. When a down product is finally worn out, a recycling project allows that down to be brought back to life as a new product. Here, we would like to introduce Nanga's recommended down product life cycle in four parts.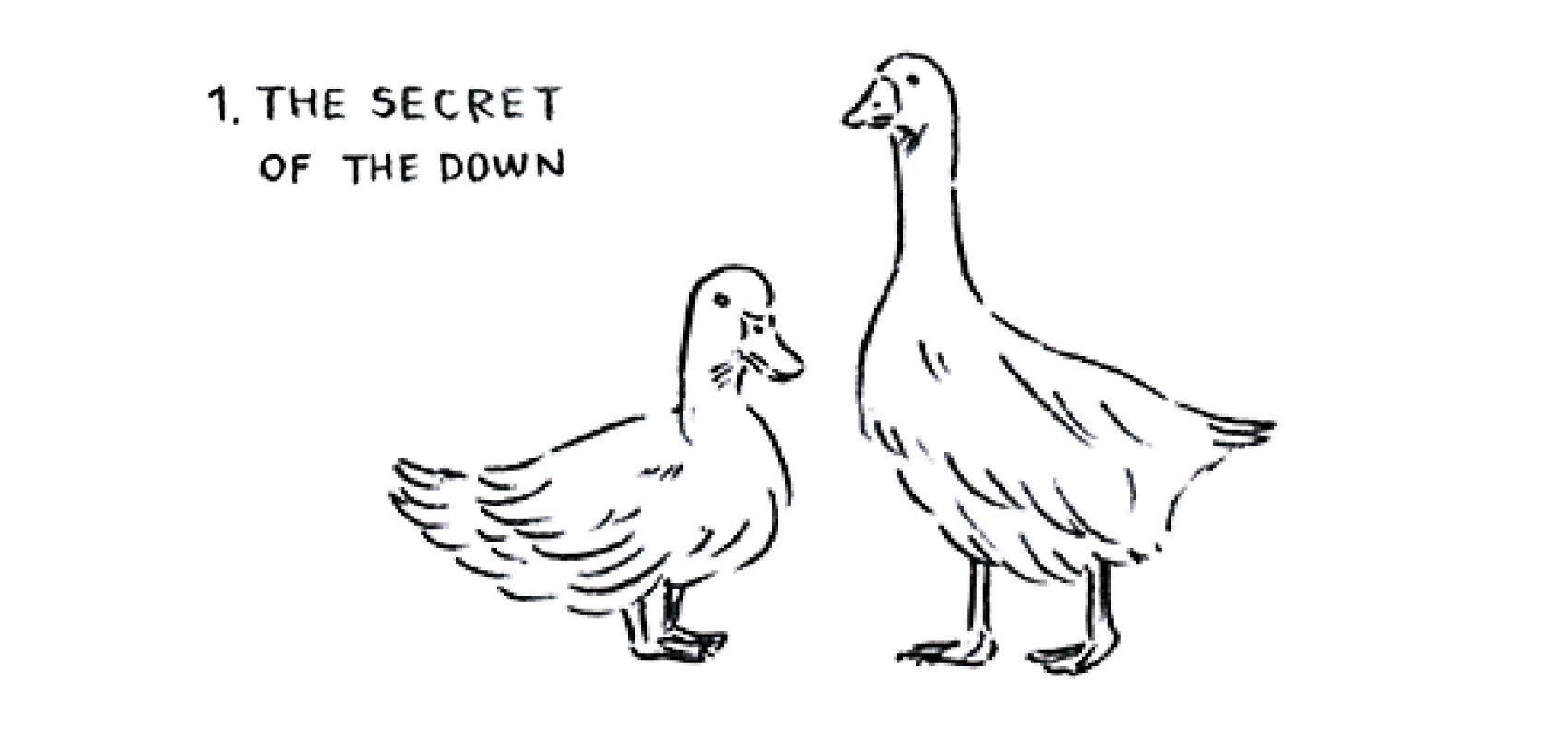 What part of the bird's feathers does the term "down" refer to? The ins and outs of down
The term "down" refers to the feathers that grow on the breasts of water fowl. Down is light and offers great insulation, along with the ability to pass moisture into the atmosphere. Balls of down are known as "down clusters." Down is a precious material. It can be collected only in small quantities from a single bird, and is not found in land fowl. It is only found in water fowl, which live in waterside areas and need protection against the loss of body temperature. The down that is used as a material for manufactured products comes primarily from two kinds of water fowl: geese and ducks. Goose down is large. Its fine, soft fibers provide excellent insulation and water absorbency. In contrast, duck down is firm and flexible, which gives it great resiliency, making it ideal for use in products that need some springiness.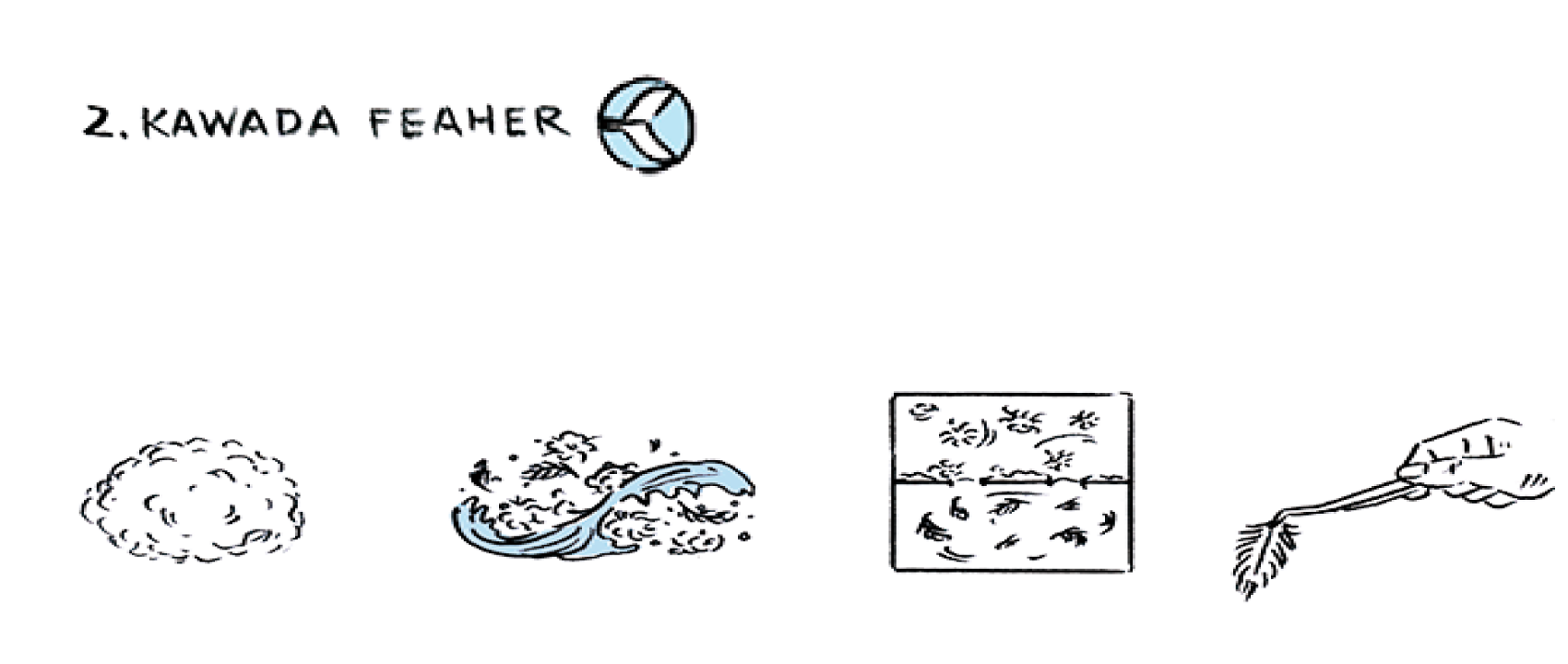 Kawada Feather, Japan's leader in making beautiful down
The down that Nanga uses in its products is cleaned and processed by the down manufacturing company Kawada Feather. Unprocessed down from water fowl can be covered with dust and dirt that is invisible to the naked eye. When this dust and dirt comes off, it can lead to a decrease in the down's insulation ability, as well as the appearance of bacteria and mites. Kawada Feather's main factory is equipped with purification and processing equipment of the company's own design. The factory is located on the Ise Plain in Mie Prefecture, Japan. The pristine water provided by the beautiful, mountainous environment is a key factor in the process of cleaning the down at this factory. The dry air causes the down to expand, which further improves the factory's ability to remove the dirt. The water is clean and extremely soft, which makes it perfect for washing away dirt. Kawada Feather produces its beautiful down with the careful use of the benefits of the environment, advanced technology, and human skill and effort.

Down can be washed at home! "The right way to wash down"
"Washing down has a harmful effect on its quality." This is a common misconception. The truth is that washing down correctly will cleanse it of moisture and oil, and bring back its fluffiness. There is no need to wash down frequently. However, we would like to share with you the correct method for washing down, so that you can get the most out of using it.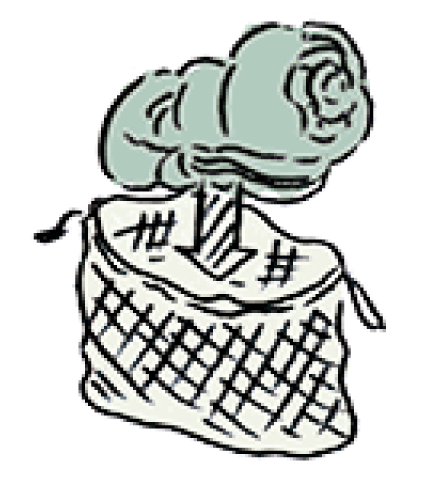 Place the down in a mesh laundry bag.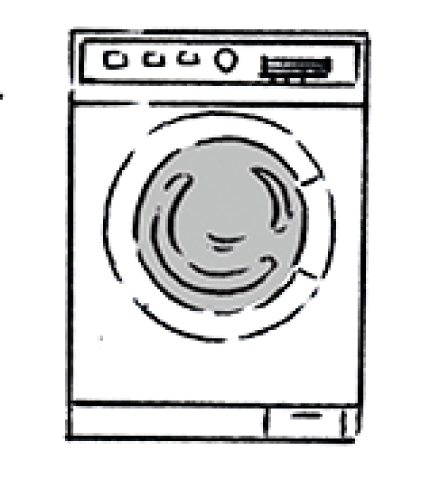 Choose the same setting on your washing machine that you would use for a blanket.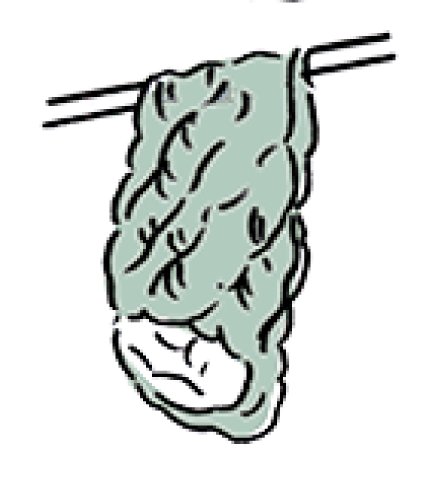 Do not use the spin cycle. Instead, wring the down out by hand and dry it in a shaded area out of direct sunlight. Then, pat it down with both hands, and even out any wrinkles.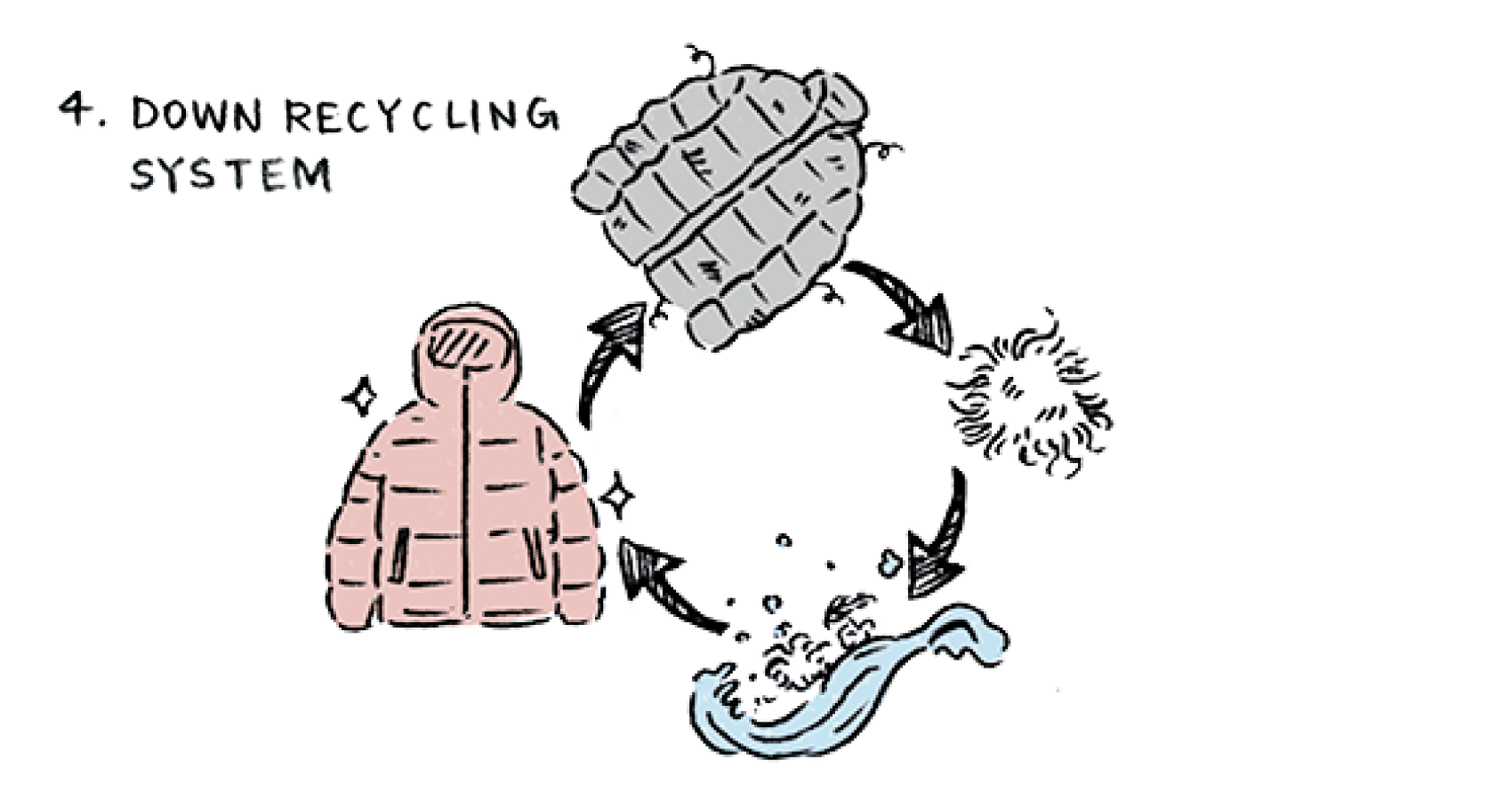 Green Down: The down recycling project
The Green Down Recycling Project reuses down, which is a finite resource. This project, in which down products from all manufacturers that are no longer being used are collected, refreshed, and reborn as new products, offers several benefits.
The Main Benefits of Recycling Down
Reduces waste, reuses resources, limits carbon dioxide emissions, provides environmental education
Promotes the employment of persons with disabilities
Commissioning of down product sorting and disassembly processes
Contributes to local economies
Partnership with the Red Feather (Central Community Chest of Japan)
Provides stable supply of down
Increased supply and stabilized prices through recycling