Description
Another great addition from Claymore, set the mood right with the Athena I. Choose from any of the 3 different light modes to make any environment feel like home. Just like all of our other lights, these are rechargeable and last up to 75 hrs. However, unlike any of our other lights, the Athena I doubles as a mosquito repeller. To activate the repeller, simply insert the pad into its designated case at the top of the light and click the activation button. As the repeller pads are not included with the Athena I, take a look at the ones we offer here.
Thanks to its sturdy grab handle, these lights can easily be hung or transported without hassle. Furthermore, all Athena I lanterns come with a built-in quarter-inch tripod socket so any of your tripod camera accessories will be compatible with these lights as well as the Light Stand from Claymore sold separately. Not only do these lights set the mood in outdoor environments, but they also look great indoors.
All Athena I Rechargeable Lanterns will come protected in a sturdy travel case made to withstand daily use. 
Features
Rechargeable LED LAMP
Mosquito Repeller
3 different Light Mode
Dimming (Stepless)
1/4" mount compatible (for Tripod)
Charging Port: USB Type-C
Battery indicator in 4 step
Protect Charing port by rubber cover
Product Name:
CLAYMORE LAMP Athena_i

Model No.:
CLL-100MT

LED Color Temperature:
1300K - 1500K - 6500K

Brightness:
30 - 950 lumens

Battery:
Li-ion 3.6V 9,800mAh (35.57Wh)

Charging time:
3.5 hrs

Run Time:
Lamp (8 - 88 hrs)
Mosquito Repeller (6 - 12 hrs)
Lamp+Repeller (4.5 - 11 hrs)

Input:
USB 5V2A ~9V2A (18W) fast charging Type-C

Output:
USB 5V2A ~9V2A (18W) fast charging Type-C

Size :
102.6 × 85.3 × 60.5 mm / 4.04 x 3.36 x 2.38

Weight:
316 g / 0.7 lbs

In the Box:
Athena I, Pouch, USB Type-C Cable, User Manual

Made In Korea
Classic Design Meets New Technology
A beautiful light created through art and technology in your hands. Explore the Claymore lamp that truly shines with the light of a Claymore, dedicated to a single goal of creating bright light.
Portable Mosquito Repeller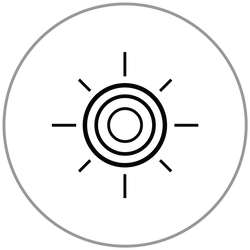 3 lighting Modes
Breeze (1300-1500K), Sunset (1300K/1500K), Daylight (6500K)
Tripod Compatible (1/4" socket)
How to Utilize the Mosquito Repeller Feature
Open the repeller pad cover on the top of the light, place one or two mosquito pads on the heating plate, and make sure to securely close the lid.
Press and hold the fumigator power button on the upper left for 2 seconds to activate the fumigator. With pad 1 on, press the button briefly once to turn on pad 2. Short press again to illuminate pad 1 and pad 2 simultaneously. Press it again to turn it off.
* Activate Repeller: Mat1 > Mat2 > Mat1 & Mat2 > Deactivate Repeller
Precautions for using Mosquito Repeller
The heating plate may be very hot, so be careful not to touch it.
Avoid use in enclosed spaces and only activate in well ventilated environments.
Do not cover the product with flammable materials/ fabrics (blankets, curtains, etc...)
Only insert 1 repeller pad for indoor use.
If there is a high level of wind movement from fans, air conditioners, etc, the mosquito repelling properties may decrease.
Inhalation of pyrenoid may cause sneezing, rhinitis, asthma, coma, headache, tinnitus, and nausea, therefore avoid use in enclosed spaces like the bedroom.
Do not tilt the Mosquito Repeller upside down or sideways.
Do not use it other than the intended use and usage method.
Only use this product for its intended use.
Enjoy Multifunctional Technology
Not only does the Athena I serve as a repeller for pesky mosquitoes, it doubles as a functional mood light for those dark and gloomy days.
No Glare
Enjoy the brigtness of Claymore lights without the harsh glare thanks to its high quality diffusion filter.
3 Different Moods
Breeze (1300-1500K), Sunset (1300K/1500K), Daylight (6500K)
The Athena I provides 3 color temperatures (Breeze / Sunset / Daylight). Change the mood with your preferred color temp. according to the situation.
Power Bank Function
Power bank feature optimized for smart outdoor life. When the charging cable is connected to the USB port, charging starts automatically.

* The lamp cannot be charged while using the power bank function simultaneously.

Battery Level Indicator
When charging, the battery level display blinks. When charging is complete, it stays on without blinking.
Sturdy Travel Case
All Athena I Rechargeable Lanterns will come protected in a sturdy travel case made to withstand daily use. 
Functional and Luxurious
The leather strap, which is designed to be easy to carry on the move, is not only made to look great, but serves an important function.
Tripod Socket Application